Shopping Cart
Your Cart is Empty
There was an error with PayPal
Click here to try again
Thank you for your business!
You should be receiving an order confirmation from Paypal shortly.
Exit Shopping Cart
LODGE ST. ANNE'S NO. 1751 S.C.
Holdings Under the Grand Lodge of Antient Free & Accepted Masons of Scotland
In Memory of Leon Stanley Smith

The choice to become a Freemason is one a man must make on his own. He must have the desire to become a better person through the lessons that Masonry teaches all its members. He must also be 18 years of age, of good moral character, and believe in a Supreme Being. Since Masonry is not a religion, the choice of Supreme Being is left for the prospective member to decide.
The fraternity of Freemasons has many traditions. One of those traditions is that we do not solicit men to join. We want men who are eager and willing to join on their own free will; voluntarily submitting themselves to the secrets, rituals, and traditions or our great fraternity. In order to begin your application process for your Masonic journey you must ask a current member, or visit your nearest Masonic Lodge, for a membership petition.
After you have asked for a membership petition there will be a series of steps you must go through before being initiated into our ancient fraternity.
You must fill out and return your petition to the Brother you requested it from or to the Lodge that gave it to you.
After your application has been received the Lodge will assign a committee of members to visit you. They are not there to intimidate or scare you, they are there to get to know you better and to answer any questions you may have about Masonry on a more personal and individual level.
After the Brothers have visited with you they will report back to the Lodge on their findings and your petition will be voted on.
The Lodge will notify you of your acceptance as a candidate.
Once you complete the requirements to progress through the Entered Apprentice, and Fellow Craft degrees, you will then be made a Master Mason and will thus have full membership in our ancient and noble fraternity!
TRIBUTE TO BROTHER AND EXCELLENT
 MASTER LEON STANLEY SMITH
On behalf of the First Principle Most ExcellentCompanion Charles Farquharson and the Companions of the St. Annes Royal ArchChapter and my family and I extend heartfelt condolences to the bereaved familyand brethren. Brethren, we  haveassembled on this occasion to express our respect and esteem for our Brotherwho has passed beyond our mortal sight and have gone on to the Grand Lodge above. In this time ofsorrow, when we all need comfort and consolation, let us turn reverently toGAOTU who, in the midst of the trials and tribulations that are a part of life,can alone endue us with that quietness of spirit and that Peace of mind and heart which the world can neither give nor take away.
THE MEASURE OF A MAN
Author: Anonymous
Not - How did he die? But - How did he live?
Not - What did he gain? But - What did he give?
These are the things that measure the worth
of a man as a man, regardless of birth.
Not - What was his station? But  N- had he a heart?
And - How did he play his God-given part?
Was he ever ready with a word of good cheer?
To bring back a smile, to banish a tear?
Not - What was his church? Not - What was his creed?
But - Had he befriended those really in need?
Not - What did the sketch in the newspaper say?
But - How many were sorry when he passed away?
These are the things that measure the worth
of a man as a man, regardless of birth.
Brethren I have known BRO. LEON STANLEY SMITH for most of my life. He was a fellow valley boy,a friend, a colleague for 32 years and a brother. Both I and Brother Smith grewup as young boys in the community called the valley. Brother Smith in thevalley proper and I in the extended valley. The Valley Proper was Montrose Avenue andthe side corners to the Mount Royal Avenue and the side corners to the EasternCollins Wall and Wulff road to Shirley Street. The extended Valley was Shirley Street to Wulff Road and Mackey Street tothe Western Collins wall. As Valley Boys you may not see each other every daybut you had a sense of connection and friendship. Stan as we called him gotinvolved with Junkanoo at a young age. Pasting for the older boys and men inthe Bird land Shack. Recognizing his talent he was promoted to pasting his ownlead costumes. He eventually became a Junkanoo builder and was responsible forbuilding the drummers and beller's costumes. He was a drummer and eventually abeller and participated up to 2008. In his later years he built the banner for the 'Sting Scrap Group' and he also designed their tee shirts. We always shared ajoke, he would tell me that I waited until I got up in age to become involvedwith Junkanoo when persons like him were winding down from Junkanoo.
As the 23rd Psalm and the Prayer of the Valley Boys says, "Yea, though I walk through the valley of the shadow of death, I will fear no evil: for thouart with me; thy rod and thy staff they comfort me." (Psalm 23:4)
Bro Smith - the Sportsman.
Evenas a young boy Bro. Smith participated in sports by representating St. Augustine in softball.In 1968 I remembered he and I competed against each other in the Junior BoysHigh School Championship game He was the catcher for St Augustine's and I wasthe center fielder for the THE Government High School. Government won thechampionship.
BrotherSmith was an ardent sportsman participating in Base ball in the BahamasBaseball Association for many years as a Picture and a Catcher . He also playedSoftball in the night league and old timers Soft Balllater in his later years.
Bro. Smith - The Agriculturalist
Brother Smith and I have worked together for the past 32 years in the Department Of Agriculture. Brother Smith joined the Department ofAgriculture after graduating from St. Augustine's Collegein 1972. In 1976 he entered Penn State University to read for afirst degree in agriculture (plants and soil science).  He later transferred to Prairie View A & M Universitywhere he completed his degree. Brother Smith rejoined the Department in 1979 as an Assistant Agricultural Officer. Brethren, brother Smith was very passionate about Agriculture as any Brother would know if you ever had an opportunity to speak to him about agriculture. He was well trained and exposed and attended many international workshops in countries such as Brazil,Honduras, Nigeria, Israel,Yugoslavia, Republic of China, Italy, and Australia and throughout the English and French speaking Caribbean.  He has conducted many training courses inagriculture and has traveled the length and breath of the Bahamas onextension visits to assist farmers. Stan's most recent achievement and avaliant effort, as he was unwell; was the organization and conduct of theSecond Agricultural Symposium July 4-6, 2011 at the Research Center.Presenters included Dr. Robert Taylor, The Dean of Alabama A and M UniversitySchool of Agriculture.  Who spoke onBahamian Soil Analysis?
Brother Smith will be missed by the Agricultural Sector. This country has lost perhaps the best Crop Scientist in the Bahamas who will not be soon replaced.
In the words of Jalludding Rumi,
"From the moment I came into the World of existence,
A ladder was placed that I might escape;
I died as a mineral and became a plant;
I died as a plant and became an animal;
I died as an animal and became a man;
When did I ever grow smaller by dying;
I shall die as a man to become an angel;
I shall die from angelhood to enter the Ocean of Being I came from;
If my body has aged what matter? For the soul is eternal young.
Bro. Smith - The Family Man
Brother Smith loved his family and as a true mason he put his family first. He made untold sacrifices to ensure that his children were educated. After Brother Smith became ill I advised him that he should retire. He said to me I cannot retire yet my last son is still in college.  His son Stanley is a practicing Lawyer in Barbados. His daughter has completed college and his youngest son Olen will be going to college in Prince Edward Island Canada on a full scholarship. He is survived by his wife of 36 years Delma , two sons Stanley and Olen and Daughter Serreta.
Bro. Smith - The Mason
Brother Smith was a zealous mason and always willing to make his contributions to whatever activities the lodge was engaged in. After being raised to the SublimeDegree of a Master Mason, he was initiated to the degree of Mark Master Mason on 22nd April, 2010. Brother Smith was always willing to learn andeven though he was not well he became an Excellent Master on 8thJune 2010...He did not become a Royal Arch Mason because he was hospitalizedand he continued to have health challenges.
A Prayer composed by the Great Masonic Scholar Wilmhurst.
"O,Sovereign and Right Worshipful of all Masters who in Thy infinite Love andwisdom has devised our order as a means to draw Thy Children nearer Thee andhast so ordained its Officer that they are emblems of Thy sevenfold power.
Be thou unto us an Outer Guard and depend us from the Perils that best us, when weturn from that which is without to that which is within.
BeThou unto us an Inner Guard and preserve our souls that desire to pass withinthe portal of Thy Holy Mysteries.
BeThou unto us the Junior Deacon and teach our wayward feet the true and certainsteps upon the path that leads to Thee.
Be Thou unto us a Senior Deacon and guide us up the steep and winding stairway toThy Throne.
BeThou unto us the Junior Warden and in the meridian Sunlight of ourunderstanding speak to us in Sacraments that shall declare the splendors of Thy unmainfested Light.
BeThou unto us the Senior Warden and in the Awful hour of disappearing Light,when Vision fails and thought has no more strength, be with us still, revealingto us, as we may bear them, the hidden mysteries of Thy Shadow.
And sothrough Light and Darkness, raise us, Great Master, till we are made one withThee in the unspeakable Glory of Thy presence in the East.
Somote it be!
Brethren Masonry confronts the fact of death with the greater fact of faith in the Immortalityof the soul. We believe sincerely that when life on earth Comes to a close, thesoul is translated from the imperfections of this
Mortalsphere to that all perfect glorious and celestial Lodge above, where The Great Architect of the universe, presides
Brother and Excellent Master Smith will be greatly missed by all.
He has gone on to theGrand Lodge above.
May his soul and the souls of the dearly departed rest in peace.
By
Brother Gregory Rahming, IPFP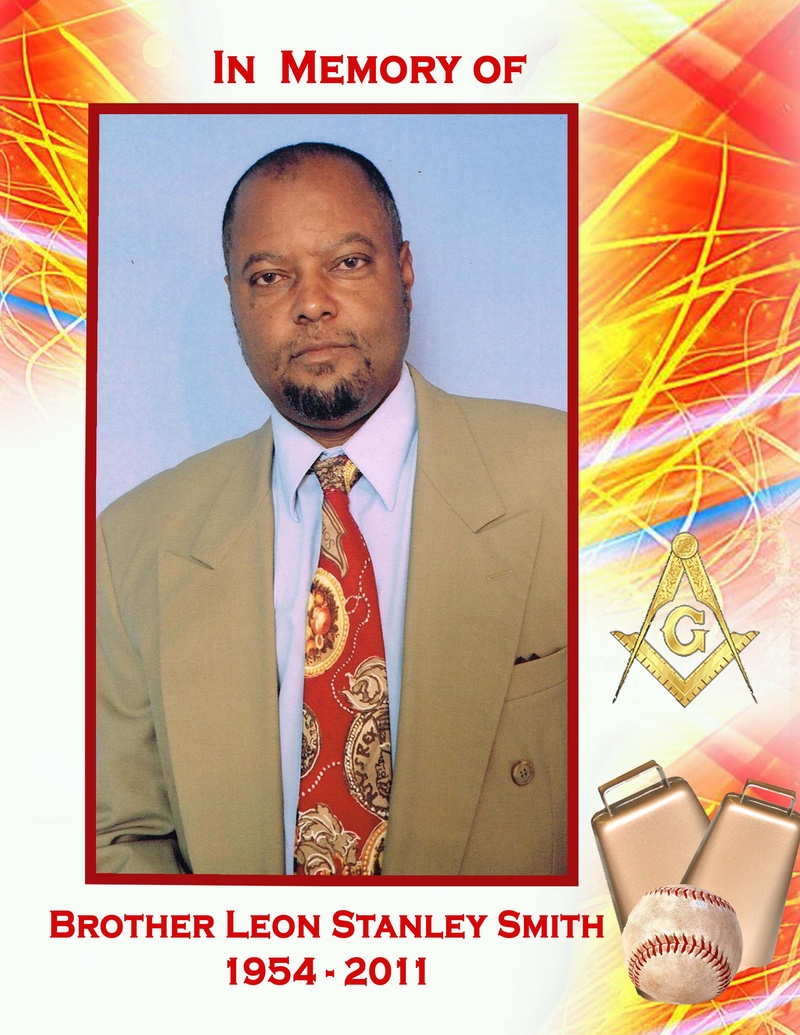 /